In this post, I will share with you some of the best sewing patterns to make for cat and dog lovers. Whether you want to make a pet food mat, a dog toy, or a cute bag, there is something here that suits your taste and skill level. At the end of the post, I have a bonus gift just for you! A free set of cute cat and dog themed sewing gift tags to attach to your handmade gift.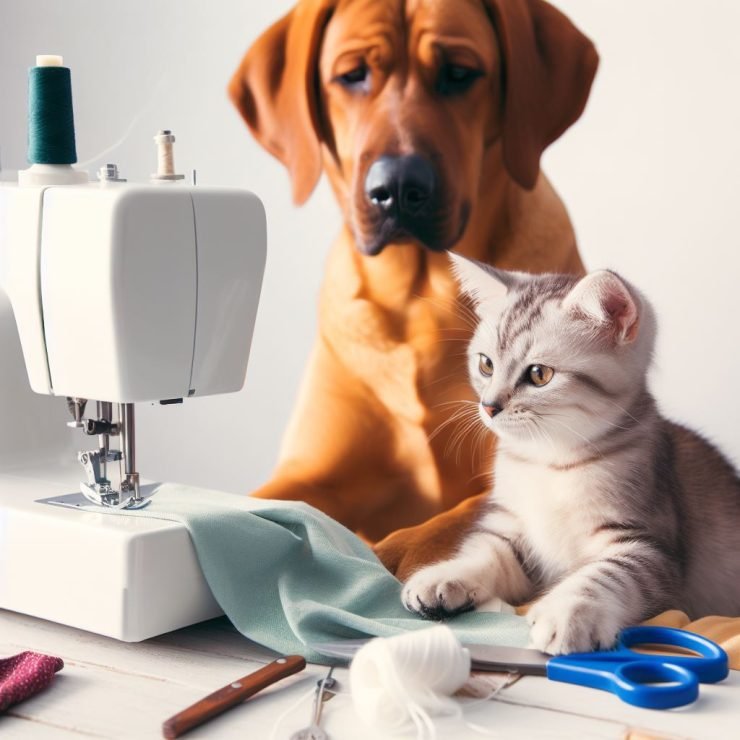 Why make a personalised gift for pet lovers?
Making a personalised gift for pet lovers is a great way to express your affection and appreciation for them. It shows that you care about their interests and hobbies, and that you know them well enough to make them a gift that matches their personality.
Plus, it's a lot of fun to make something with your own hands, and to see the joy on their faces when they receive it. You can also add your own touches and customisations to make it even more special and unique. Use fabrics to match their pet's colour, breed or personality. These projects are also perfect to use that novelty fabric from your stash that features furry friends.
Fabrics/Materials that are safe for pets.
But before you start sewing, let me tell you what materials to use to make these projects safe around pets. You don't want your furry friends to get hurt or sick from your creations, right?
Here are some of the things to consider when choosing your materials:
Avoid using fabrics that are too thin, stretchy, or slippery. They can tear easily or get tangled around your pet's neck or limbs.
Avoid using fabrics that have loose threads, buttons, zippers, or embellishments. They can pose a choking hazard or cause intestinal blockage if swallowed by your pet.
Avoid using fabrics that are dyed with toxic chemicals or have strong odors. They can irritate your pet's skin or respiratory system.
Choose fabrics that are durable, washable, and breathable. They will last longer and keep your pet comfortable.
Some of the fabrics that I recommend are:
Cotton: It is soft, natural, and easy to work with. It comes in a variety of colors and prints, so you can find one that suits your style and your pet's personality.
Fleece: It is warm, cozy, and fuzzy. It is perfect for making blankets, beds, or pillows for your pet. It is also easy to sew and doesn't fray.
Canvas: It is sturdy, durable, and resistant to water and stains. It is ideal for making outdoor projects like tents, mats, or bags for your pet. It is also easy to clean and maintain.
These are just some of the fabrics that you can use to make your projects safe around pets. You can also mix and match different fabrics to create unique and fun designs.
What are some of the projects you can make for cat and dog lovers?
Here is a round-up of our most popular sewing patterns for dog and cat lovers. Click on the photo to read more information about each project.
The Cosy Cat Coaster is one of our most beloved and popular patterns. These are easily constructed from your monochromatic fabric scraps and look great made in all the colours of the rainbow. These are a fun sewing project and they can be sewn in next to no time at all. Pattern is available in our Pattern Store and Etsy Shop.
Kitty Carryall is a cute drawstring bag, perfectly sized to hold a few essential. Pattern is available in our Pattern Store and Etsy Shop.
Patchwork dog bone toy is perfect for games of fetch with your furry friend. You can find the pattern in our Pattern Store and Etsy Shop.
Cosy Cat Placemat or Pet Meal Mat.
Make meal time fun with this cute, patchwork cat placemat – perfect for cat lovers everywhere! Featuring a monochromatic patchwork cat, they are purrfectly sized to hold a dinner plate or a pet bowl. Find the pattern in our Pattern Store and Etsy Shop.
Make snack time fun with this darling dog paw coaster– perfect for dog lovers everywhere! Pattern is available in our Pattern Store and Etsy Shop.
Cat Applique – 5 Styles, 4 Sizes
Put your scraps to good use with this easy, beginner friendly Cat Applique templates – available in 5 styles and 4 sizes. Add appliques to clothing, bags, table linens and more! Applique Pattern available in our Pattern Store and Etsy Shop.
If you love dogs and sewing, you'll adore the Puppy Pouch Sewing Pattern. It's perfect for carrying your essentials or for giving as a present to a fellow dog lover.. Pattern is available in our Pattern Store and Etsy Shop.
Are you a cross stitcher or interested in trying out this relaxing craft technique?
Our cross-stitch shop has a number of patterns that would appeal to pet lovers. Click on the photos below for more details.
Calico Cats – Set of 3 (also available individually).
We have also created cross stitched for other types of pets:
Gift Tags for your Handmade Gift
I have designed a set of free gift tags to accompany your handmade gift to cat and dog lovers.
Download your free gift tags here.
Print the gift tags on white card stock and cut around the outside of each tag. Sheet contains 8 tags for your personal use only.
They are the perfect finishing touch for your gift, don't you think?
Hope you enjoyed this post and are inspired to make cat and dog inspired projects for yourself or a fellow cat or dog lover.