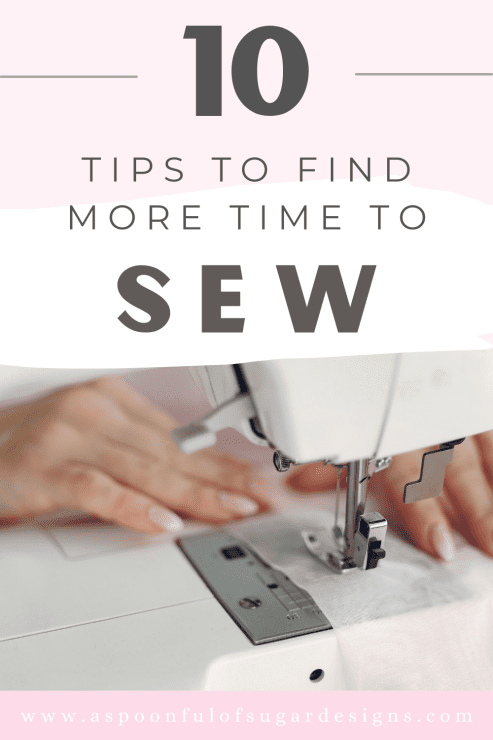 How to find time to sew:
Hi there, fellow sewists! Do you ever feel like you have no time to sew? Do you have a pile of unfinished projects that you never get around to? Do you wish you could squeeze in some sewing time every day, even if it's just half an hour? If you answered yes to any of these questions, then this blog post is for you. I'm going to share with you some tips and techniques to help you find time to sew when you are busy. Trust me, it's possible! I work full time in a demanding job and still find time to sew and run a sewing blog.
– Tip #1: Plan ahead. One of the biggest obstacles to sewing is not knowing what to sew or where to start. That's why it's important to plan ahead and have a clear idea of what you want to make and how to make it. You can use a planner, a notebook, a Pinterest board, or whatever works for you to keep track of your sewing projects and goals. This way, you can avoid wasting time browsing patterns or fabrics when you could be sewing.
– Tip #2: Break it down. Another challenge to sewing is feeling overwhelmed by the size or complexity of a project. That's why it's helpful to break it down into smaller steps and tackle them one at a time. For example, instead of thinking "I have to make a quilt", think "I have to cut the fabric", "I have to sew one block", "I have to attach the binding", etc. This way, you can see your progress and feel more motivated to continue.
– Tip #3: Schedule it. The most effective way to find time to sew is to schedule it. Just like you would schedule a meeting, a workout, or a doctor's appointment, schedule your sewing time and stick to it. You can use a calendar, an alarm, or a reminder app to help you stay on track. Try to find a consistent time that works for you, whether it's in the morning, in the evening, or during your lunch break. Aim for at least 30 minutes a day, but if that's too much, start with 15 minutes and work your way up.
– Tip #4: Make it fun. The last tip I have for you is to make your sewing time fun and enjoyable. You can do this by listening to music, podcasts, audiobooks, or anything that makes you happy while you sew. You can also join online or offline sewing communities and share your projects and challenges with other sewists. You can also reward yourself for completing a project or reaching a milestone with something that makes you smile, like new fabric, a new sewing pattern, or a trip to your favourite sewing/quilting store.
– Tip #5: Create a dedicated sewing space. Find a space to set up your sewing machine and keep it there so it is ready to go when you get a few few minutes. You don't have to waste time setting up or putting away your materials and tools every time you want to sew. You can also leave your work in progress on your sewing table or machine and resume it whenever you have a chance.
– Tip #6: Pack an on-the-go bag of hand projects like English Paper Piecing, hand piecing, hand applique, and keep it in your car. You can squeeze in sewing time in waiting rooms, while watching kids sports, or when waiting to pick them up from school.
– Tip #7: Join a sewing a sewing group to meet other people who share your passion for sewing and learn new tips/techniques from them. Join in an online "sew-along" to keep yourself motivated to finish a project.
– Tip # 8: Wake up early or stay up later. If you can sacrifice some sleep, you can use the extra hour or two in the morning or at night to work on your sewing projects. Just make sure you don't compromise your health or well-being by doing this too often.
– Tip #9: Use your lunch break. If you have a job that allows you to take a lunch break, why not use it to sew? You can bring a hand-sewing project to your workplace and enjoy some stitching while you eat.
– Tip #10: Say no to some invitations or commitments. Sometimes, we feel obligated to say yes to every social event, volunteer opportunity, or request that comes our way. But remember, you have the right to say no if something doesn't align with your priorities or values. If you need some time for yourself and your sewing, don't be afraid to decline an invitation or a commitment that is not essential or meaningful to you.
I hope these tips help you find time to sew when you are busy. Remember, sewing is not only a hobby, but also a form of self-care and creativity. You deserve to make time for yourself and your passion. Happy sewing!
Check out our Pattern Store for more than 100 beginner friendly patterns that can be easily made in an afternoon for time poor sewists!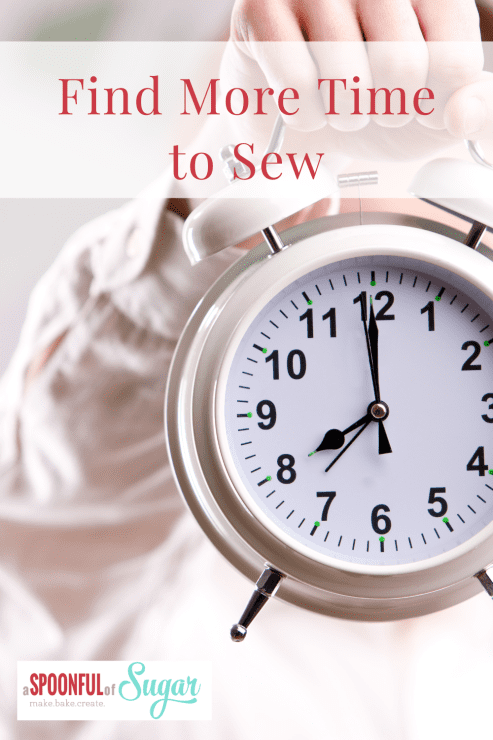 If you enjoyed this article, check out Sewing for Mental Health and Well-being.