Are you looking for a fun and easy way to add some brightness and warmth to your quilting projects? If so, you might want to try the Sunburst Block, a foundation paper piecing pattern that creates a stunning sun-like design. The Sunburst Quilt Block Block is our latest foundation paper pieced quilt block and it includes 5 sizes – 2 inches, 3 inches, 4 inches, 5 inches and 6 inches.
Foundation paper piecing (FPP) is a technique that uses paper templates to guide the sewing of fabric pieces. The paper stabilizes the fabric and ensures precise and accurate results. FPP is especially useful for creating complex or irregular shapes that would be difficult to achieve with traditional piecing methods. The Sunburst pattern includes basic tips for foundation paper piecing if you are new to this piecing technique. It also contains a colouring sheet to help you plan your project. This design looks great made in bright yellows and oranges, and would also work well in rainbow hues.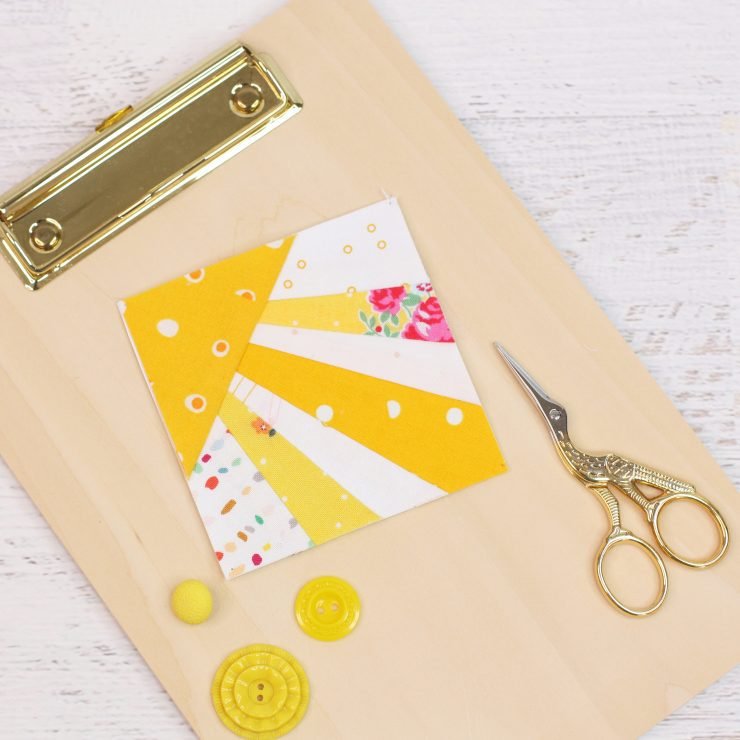 The Sunburst Block is a great pattern for beginners who want to try FPP for the first time. It uses simple shapes and strip piecing, and does not require any special tools or templates. You can use any scraps of fabric you have in your stash, or choose a coordinated collection of prints and solids. The Sunburst Block works well as a standalone block, or as part of a larger quilt or cushion. 
The Sunburst Quilt Block FPP Pattern is available in our Pattern Store and Etsy Shop for immediate download.
If you love this design, check out more of our popular foundation paper pieced quilt blocks.