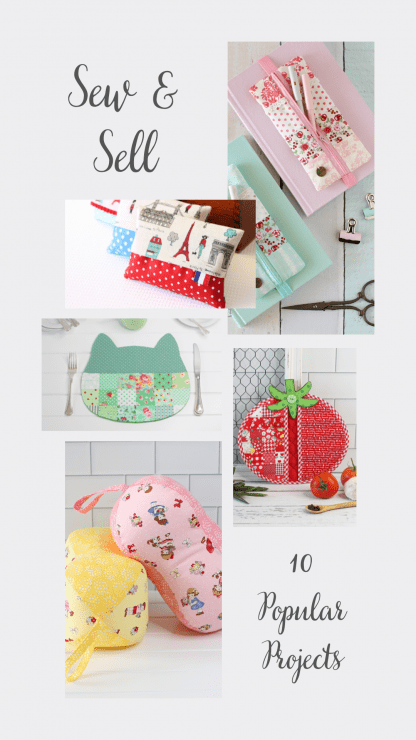 Turn your hobby into a side hustle and sell what you sew! With the cost of living continuing to rise, it is good to have a side project to bring in some extra money. One way to do that is by selling handmade projects. Savvy shoppers are appreciating the value of handmade and purchasing one of a kind items as gifts for friends and family. When purchasing any of my patterns, you are able to sell what you sew. I support small businesses to make items from my patterns in small, handmade quantities (i.e. not mass produced). All you need to do is to include in the item description, that the product was made using a pattern by A Spoonful of Sugar Designs. www.aspoonfulofsugardesigns.com
Not sure what products to make? Here is a selection of 10 or our popular patterns and tutorials that make ideal items to make and sell. Best of all, most of these patterns are beginner friendly and can be easily and quickly made in bulk from your leftover fabric remnants (or "scraps").
Cosy Cat Placemat makes a fund pet meal mat or a fun gift for a cat loving friend.
Everyone needs tissues available in their handbag or backpack. Check out our free tutorial.
Sewing enthusiasts will love this Cotton Reel Coaster – perfect for a cup of tea in the sewing studio!
Keep your stationery items close at hand with the Elastic Pencil Case.
Travellers will love these shoe bags to keep their shoes safely separated inside the suitcase. Get the free tutorial.
Peanut Pillows provide much needed neck support for anyone who loves long trips in the car or airplane.
Sewists will love this Hexie Sewing Kit – perfect for sewing on the go!
Home cooks will appreciate a handmade Tomato pot holder to protect their hands when cooking.
Children will love this Circus Bag which encourages imaginative play whilst also storing toys/treasures.
These pyramid weights can be used as pattern weights or else fill with dried lavender for a lovely scented sachet.
Hope these 10 projects have inspired you to get creating! Click on the links or on the photos for more details on each project.