Hi there, fellow sewists! Are you looking for beginner friendly sewing projects for children going back to school? If so, you've come to the right place! In this blog post, I'm going to share with you some of the benefits of making your own school supplies, such as lunch bag, pencil case, bag tags, tissue cosy's, drawstring bag, and more. Plus, I'll show you some of our projects, patterns and free tutorials that you can use to create these personalised items.
Why make your own school supplies?
There are many reasons why making your own school supplies is a great idea. Here are some of them:
– You can customize them to suit your child's personality and preferences. You can choose the fabrics, colors, patterns, and embellishments that they like.
– You can save money by using materials that you already have or by buying them on sale. You can also reuse and repurpose old clothes, sheets, towels, or other items that you no longer need.
– You can teach your child valuable skills such as sewing, cutting, measuring, and following instructions. You can also encourage their creativity and self-expression by letting them help you with the design and decoration of their school supplies.
– You can make unique and original items that will stand out from the crowd. Your child will be proud to show off their handmade school supplies to their friends and teachers.
– You can have fun and bond with your child while working on these projects together. You can also make some extra items for gifts or donations.
Popular Beginner Friendly Sewing Projects for Back to School
Pocketful of Sunshine Bag is perfect for stowing small items in your school bag, desk or locker.
Keep a pack of tissues handy in your school bag or locker with our Tissue Cover. Our free sewing tutorial to show you how to make project. They all make sweet gifts for a teacher.
There are so many uses for an Eco-Shopper – use them to stow your gym shoes/clothing; school supplies; or other items that you need to take to/from school. Best of all it rolls up and can be stowed in your school bag when not in use.
You will always have emergency items close at hand with this patchwork pocket pouch. Ideal to store tissues, bandaids, or other small items.
Make a personalised felt bag tag using our free tutorial.
Store a rotary cutter, spectacles, pens and more in this Rotary Cutter Sewing Tool Pouch
Teens will love personalising their notebooks with an appliqued fabric monogram. This is a fun scrap buster project and a great beginner sewing project. Check out our free tutorial.
Keep your writing tools close at hand with this Elastic Pencil Case. The elastic loop attaches the pencil case to a journal or book.
Take your lunch to work or school in style with this Apple Lunch Tote.
Collage kids will love the roomy Classic Laundry Bag. Perfect for holding laundry and taking to the laundromat.
I hope you enjoyed this blog post and found some inspiration for your next sewing project. Making your own school supplies is not only fun and easy but also rewarding and meaningful. Your child will love using their handmade school supplies and appreciate your effort and love.
Happy sewing!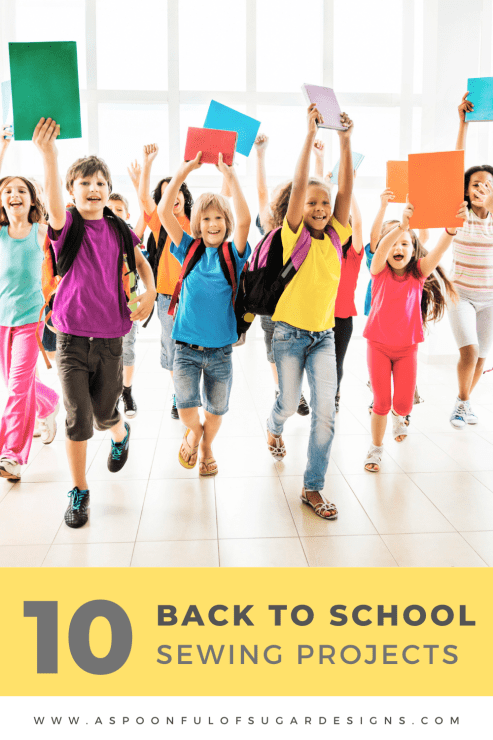 Need more ideas? Check out more Back to School Projects here.