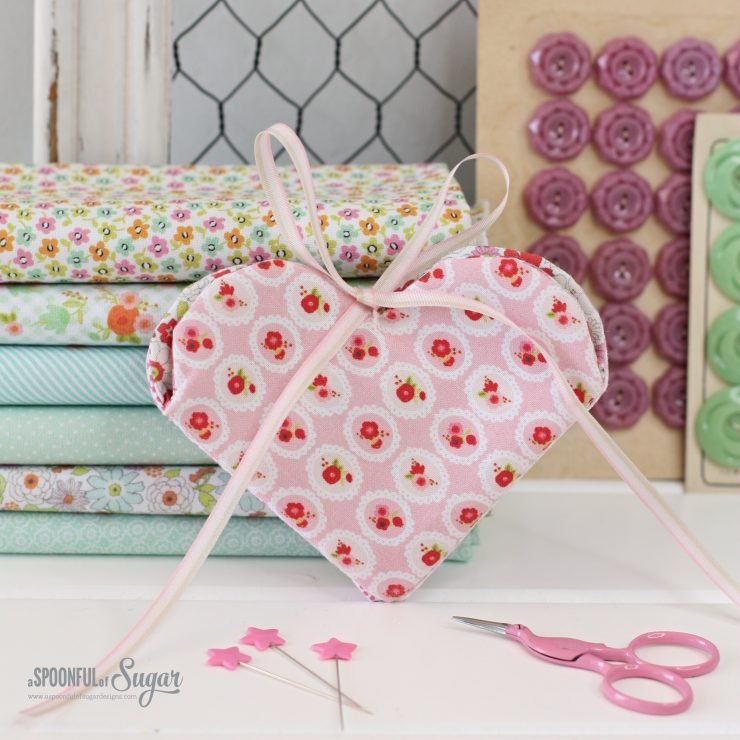 I use a range of sewing needles for a variety of purposes – applique needles, embroidery needles, quilting needles, darning needles, and general sewing needles. The Love Needle Case cleverly folds out (origami style) into four separate quadrants. This makes it easy to separate your needles by type so they are easier to find. I use good quality wool felt in the centre of the cases.
This Love Needle Case was made in the newly released fabric range, Sarah Kay with Love, by Devonstone Collections. Featuring smalls scale prints in soft, pastel colours, they are perfect for loads of projects. The prints coordinate with panels featuring the iconic Sarah Kay illustrations of the 1970's – 1980's.
Love Needle Case is a quick sewing project that can be made in around an hour. These would be fun items to sell at a craft fair and make a lovely little gift for a sewing or quilting friend. You could tuck a pack of your favourite needles inside.
The Love Needle Case PDF Sewing Pattern is available from our Pattern Store and Etsy Shop for immediate download. If you like this pattern, check out the Travel Sewing Kit and Hexie Sewing Kit for more inspiration.