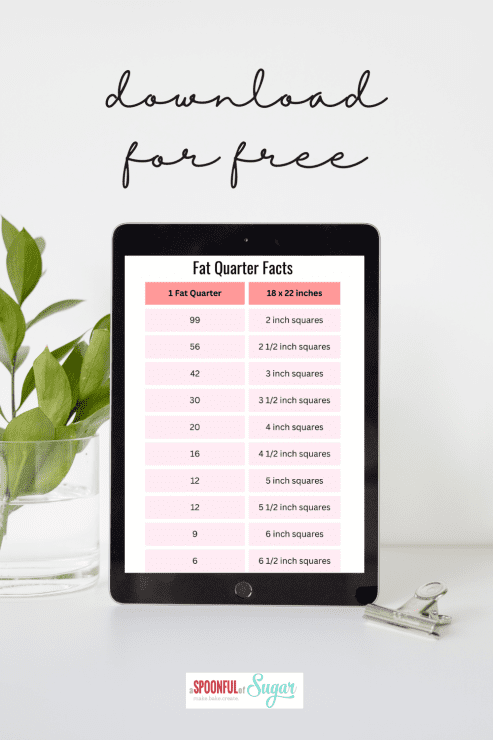 Fat quarters are popular with quilters and sewists alike as they are versatile and a great way to get variety in your fabric stash. I have compiled all you need to know about fat quarters in this handy article. Download your fat quarter facts today and bookmark this article for future reference.
What is a Fat Quarter?
A fat quarter is a quarter-yard of fabric that has been cut to yield a larger piece than a traditional quarter-yard. The term "fat" is used to describe the increased width of the fabric. In contrast, a "skinny" quarter would be the traditional 9″ x 44″ (or 36″) size. A fat quarter refers to a cut of fabric that is 18 inches x 22 inches. The longest side's dimension sometimes varies because some quilting fabrics are not 44 inches wide.
Benefits of a Fat Quarter:
Perfect for smaller projects such as pillows, bags, baby quilts, table runners and more!
They can be cut into a wide range of sizes and shapes to suit a variety of projects. Download a Fat Quarter Facts below to use as a handy reference guide when working out how much fabric you need.
They are perfectly sized to store in small tubs so you can easily see the fabric you have when auditioning fabrics for a new project.
Great size for beginner quilters and sewers to measure and cut accurately.
Easy to purchase at quilt stores – pre-measured, pre-cut, and packaged for your convenience. You can even purchase bundles from the same range which make it easy to coordinate fabrics for you next project.
Ideal for sampler and scrap quilts when you want to showcase a variety of fabrics.
Fat quarters can always be cut down into smaller squares, rectangles, or triangles similar to the jelly roll or charm pack sizes. Since the pieces are smaller and the cuts are better sized you end up with less waste, scraps and unused material.
Having fat quarters help you increase your textile collection without having to spend a ton buying the yard.
Fat quarters are considered the most versatile of all the precut fabric options.
Download your free copy of Fat Quarter Facts here.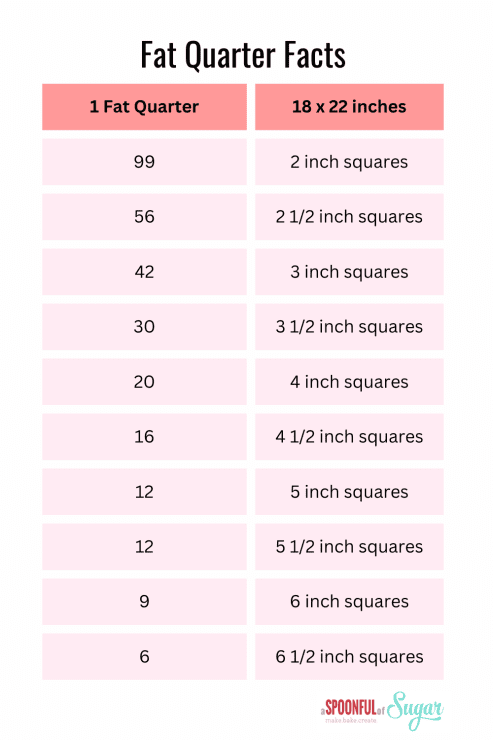 Fat Quarter Friendly Projects:
Here is a selection of our most popular fat quarter friendly projects.
Star Table Runner is a great project to highlight large scale prints. They are used in the setting triangles around each of the star blocks. Perfect for a fat quarter bundle.
Peanut Pillow uses two fat quarters of contrasting fabric. This pillow is ideal for travelling in a car or airplane to provide neck support.
Circus Bag – encourage imaginative play with this cute bag that resembles a circus tent.
Bunny Placemat is a fun addition to the table at Easter, springtime or any time of year!
Heart Pot Holder is a practical project for the kitchen and makes a sweet gift for bakers.
Head to our Pattern Store and Etsy Shop to check out more of our beginner friendly patterns.