I was recently tasked with making dice bags for my daughter and her partner who are both Dungeons and Dragons enthusiasts. They were very happy with my design so I have written up the pattern so other DnD gamers can make their own. The Dice and Drawstring bag features four internal mesh pockets which allow you to sort your dice for efficient gameplay. The base of the bag is big enough to store additional sets of dice or you can store game figurines, tape measure, and other gaming accessories.
The Dice and Drawstring Bag (DnD) can hold up to 12 sets of dice. It has a flat bottom and is fully reversible. The top of the bag folds down to give you ready access to the dice. The dice bag stands up by itself.
I found the perfect wooden beads to use as cord covers at Spotlight. The wooden geo beads have 12 sides and remind me of the D10 dice.
The Dice and Drawstring Bag (DnD) can be easily constructed in under two hours. The 12 page beginner friendly pattern includes lots of step by step instructions and photographs to guide you through each stage of the construction. It includes a full sized template that you can print at home on your Letter or A4 sized printer.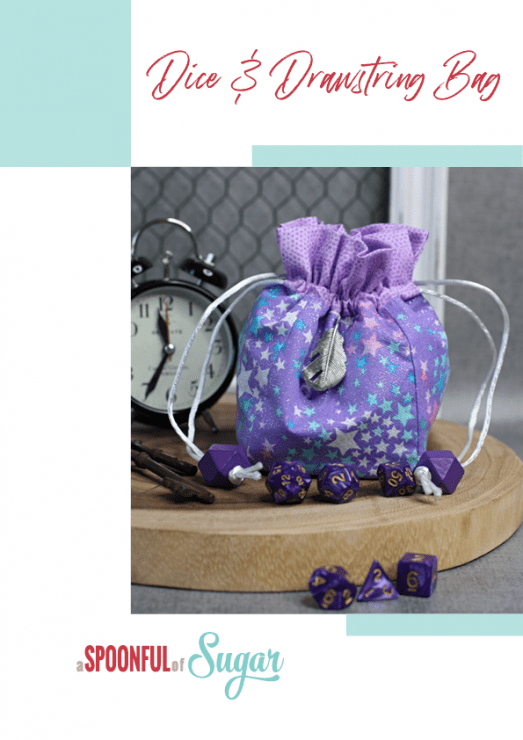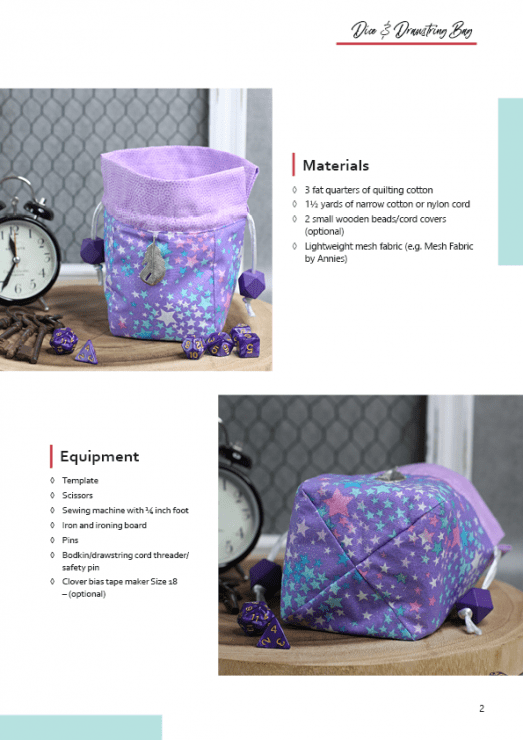 I added a steampunk style feather element to the front of the starry bag for added interest. The Dice and Drawstring Bag (DnD) bag measures 3 1/2 x 3 1/2 inches at the base and is 5 1/2 inches tall when open.
Head to our Pattern Store or Etsy Shop to purchase the Dice and Drawstring Bag (DnD) – it is available for immediate download. Find your mystical and magical fabrics now, and create the perfect dice bag.