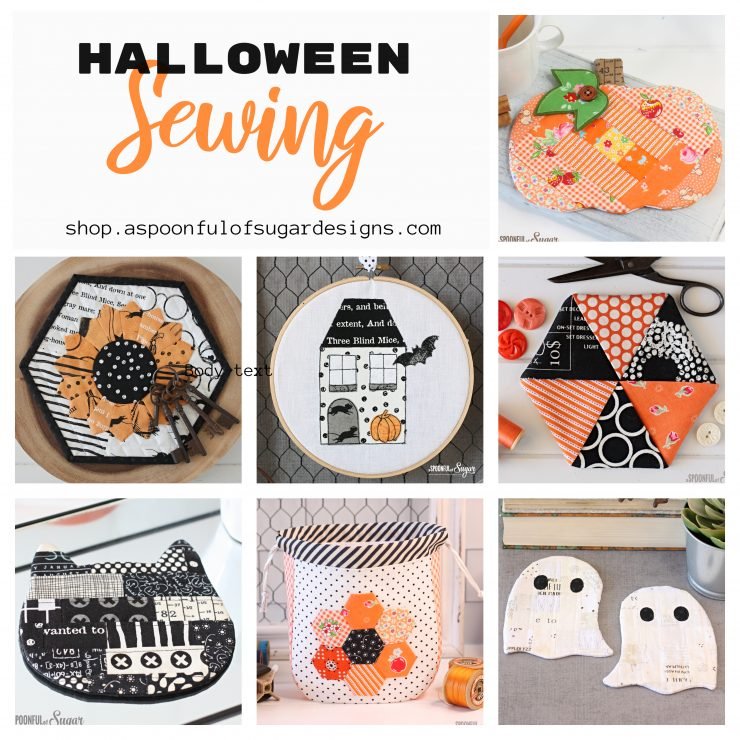 Halloween is a great time to unleash your creativity and sew some spooky and fun projects for your home. Whether you want to make a cozy quilt, a festive pillow, a creepy garland, or a trick-or-treat bag, there are so many Halloween sewing projects to choose from. You can use Halloween fabrics that feature pumpkins, ghosts, bats, spiders, and other motifs in orange, black, purple, and green colors. You can also add some metallic, glitter, or glow-in-the-dark fabrics for some extra sparkle and shine.
Sewing for Halloween has many benefits, such as saving money, reducing waste, expressing your personality, and having fun with your family and friends. Plus, you can reuse or repurpose your Halloween sewing projects for the next year or for other occasions. So, what are you waiting for? Grab your sewing machine and some Halloween fabrics and start sewing some amazing Halloween projects!
With Halloween fast approaching, there is still time to add some special handmade magic to your decorating with these beginner friendly Halloween sewing projects. All patterns are available for immediate download from our Pattern store and Etsy shop. Handmade holidays are the best! Nothing beats creating some homemade décor items to recognise and celebrate holidays throughout the year.
Halloween Sewing Projects and Tutorials:
One of my favourite Halloween sewing patterns, is the Patchwork Pumpkin Coaster. It can be made in cheery bright orange fabrics, autumn coloured fabrics, or a spooky orange/black fabrics to give it a different vibe. Perfect mug rug to use with your Pumpkin latte.
The Spooky Shack Sack is perfect to use as a Halloween gift bag or to use trick or treating. It has a handy drawstring closure and a simple felt appliqued bat and window/door. You can find the pattern in our Pattern Store and Etsy shop.
The Hexie Garden Pouch is perfect for storing a Halloween treats! Use your favourite orange and black fabrics to create this little drawstring bag.
The Cosy Cat Coaster is a favourite amongst cat lovers. Make it from scrappy black fabrics and it is purrfect for Halloween.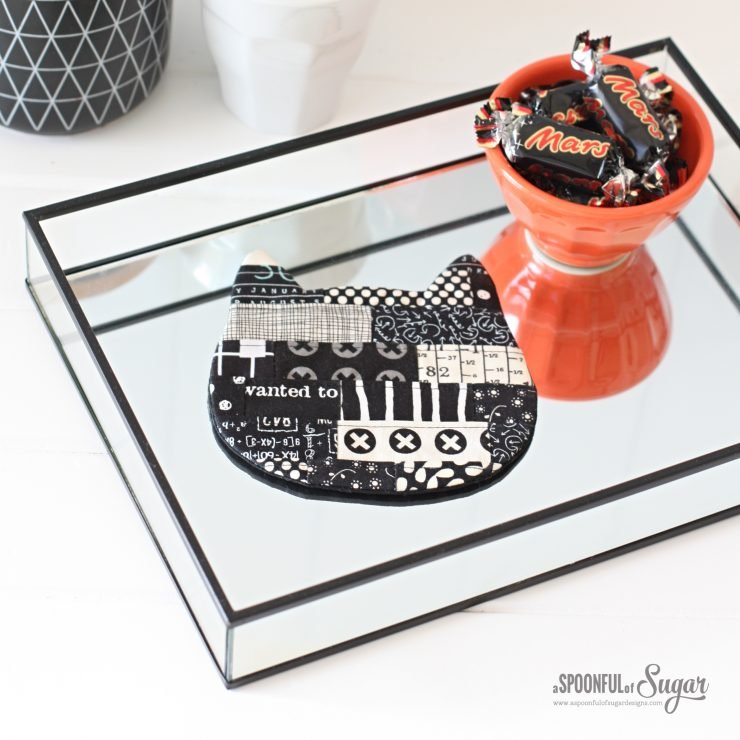 Ghoster Coaster will add some spooky fun to your snack time. This pattern is a boo-tiful way to use your favourite low volume fabric scraps.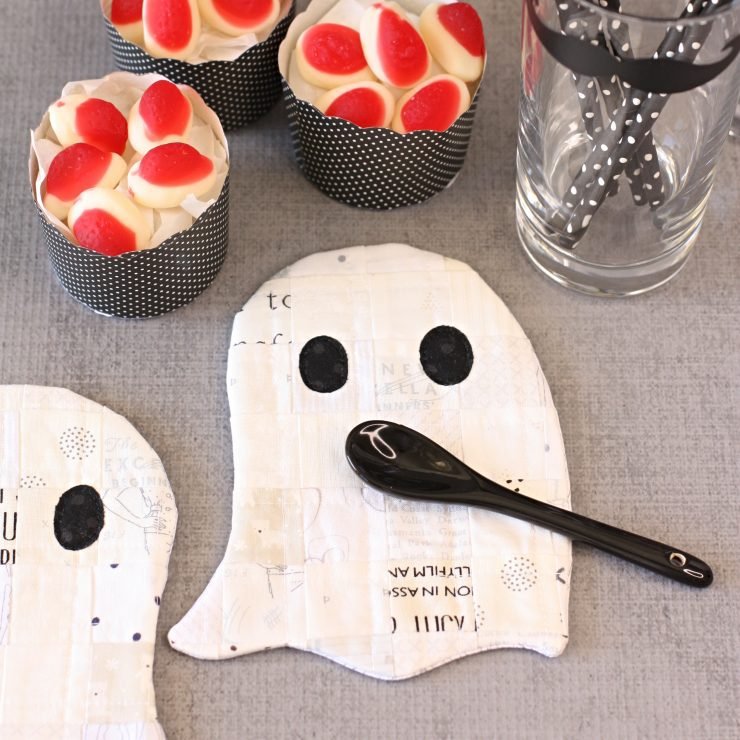 Farmhouse Pumpkin Placemat is a simple way to add Halloween magic to your table. Add eyes and mouth to turn it into a Jack o Lantern. Pattern is available in our Pattern Store and Etsy Shop.
One of our easiest patterns is the Hexagon Trivet and Coaster, shown here in black and orange fabrics. If you are teaching someone to sew, this would be a great first project.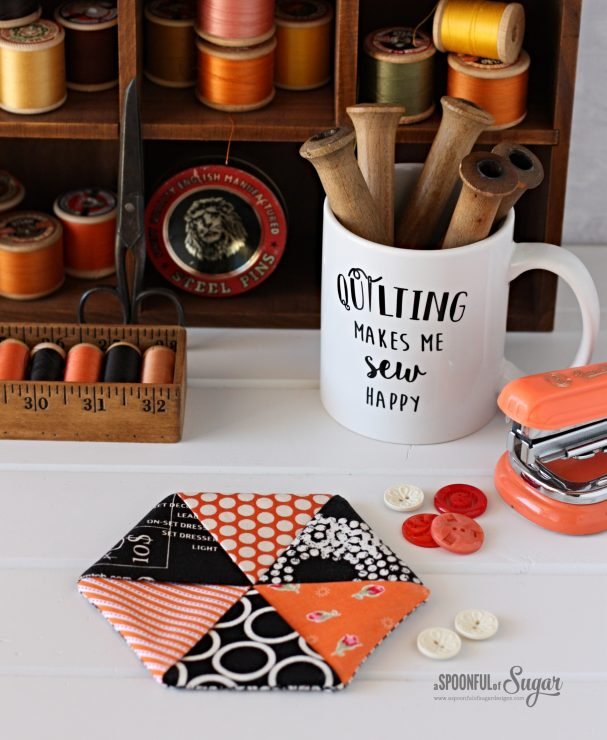 The Dresden placemat looks great in orange and black shades for Halloween.
Yuletide Cottages design has had a spooky makeover with the addition of a pumpkin and bat.
Add spooky flair to ready-made clothing, bags, or homewares, by adding a Spider and Spider Web applique using our applique pattern. Applique pattern is available in our Pattern Store and Etsy Shop.
For all your Halloween sewing inspiration, head to our Pattern store or Etsy Shop to find the perfect pattern.
We also have a number of free sewing tutorials which are perfect for Halloween: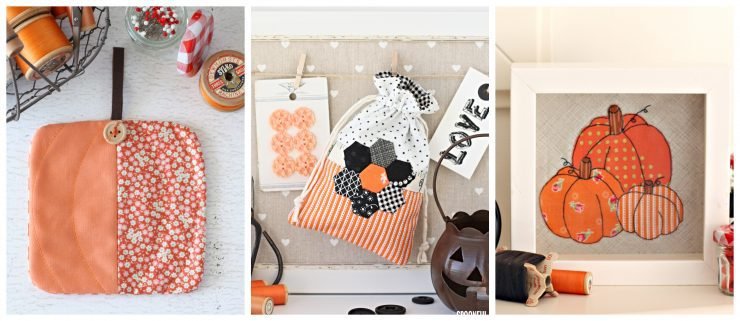 Halloween Sewing favourites.
Hope you have found some projects to inspire your Halloween sewing.