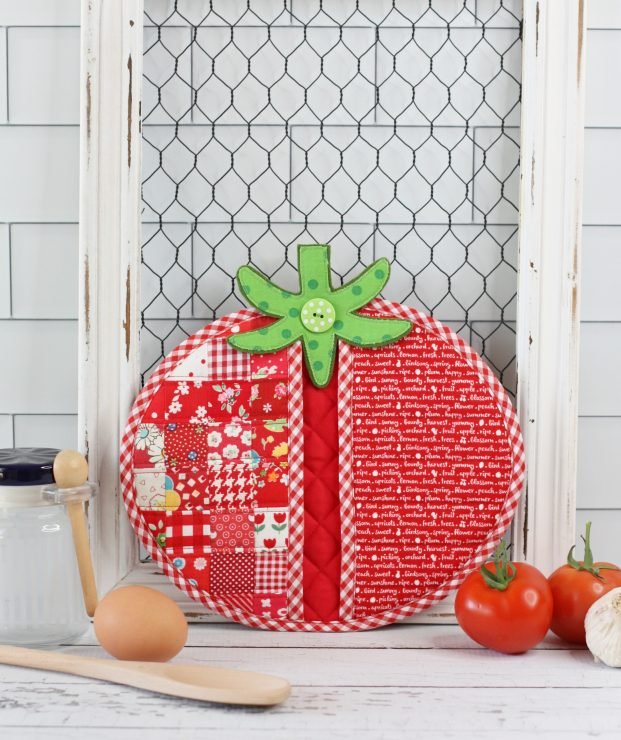 My favourite hobby (after sewing of course!) is cooking and baking. My latest pattern combines my two favourite hobbies in this cute patchwork Tomato Pot Holder. The pot holder (or hot pad) adds a pop of colour to your kitchen. Tomatoes are such a versatile fruit and I have celebrated it in my latest design.
The Tomato Pot Holder features a postage stamp patchwork pocket – which is a great way to use your favourite red scraps. The pockets allow the pot holder to be folded in half so your hand is further protected when getting items out of the oven or off the stovetop.
The Tomato Pot Holder is finished off with a cute green stem that cleverly covers the hanging loop and is attached with a button. I used packaged gingham trim to finish off the edges of the pot holder but you can always make your own. The Tomato Pot Holder can be easily made in an afternoon and makes a fantastic hostess gift for a home cook. Simply pair with some kitchen tools or gourmet food items for a lovely gift.
You can find the Tomato Pot Holder pdf sewing pattern in our Pattern Store and Etsy Shop.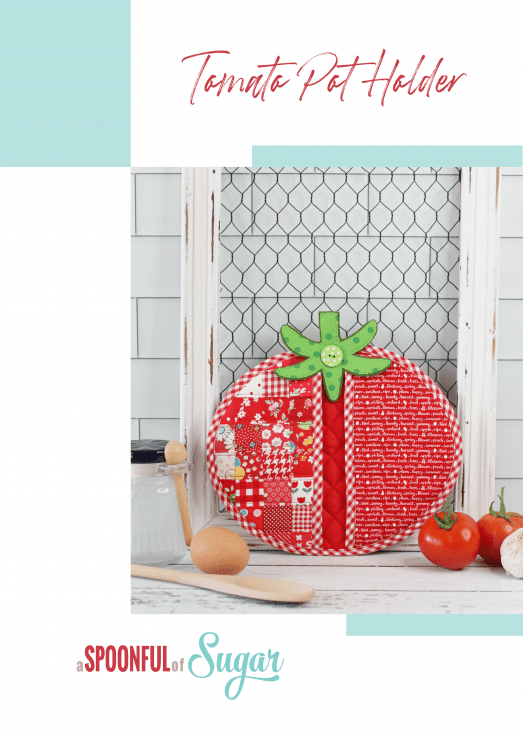 The pdf pattern is 13 pages and like all of my patterns, includes loads of step by step photos and full sized templates (available in both A4 and Letter sized) for your ease of printing at home.
If you love this design, check out our Santa and Elf Pot Holder PDF Sewing Pattern.