Our latest sewing pattern is an fall inspired project – the Patchwork Acorn Coaster Mug Rug. Featuring a polka dot linen cap, and a patchwork body, this sweet acorn coaster can be easily made in an afternoon. This is a fun project to use your favourite brown and beige toned fabric offcuts.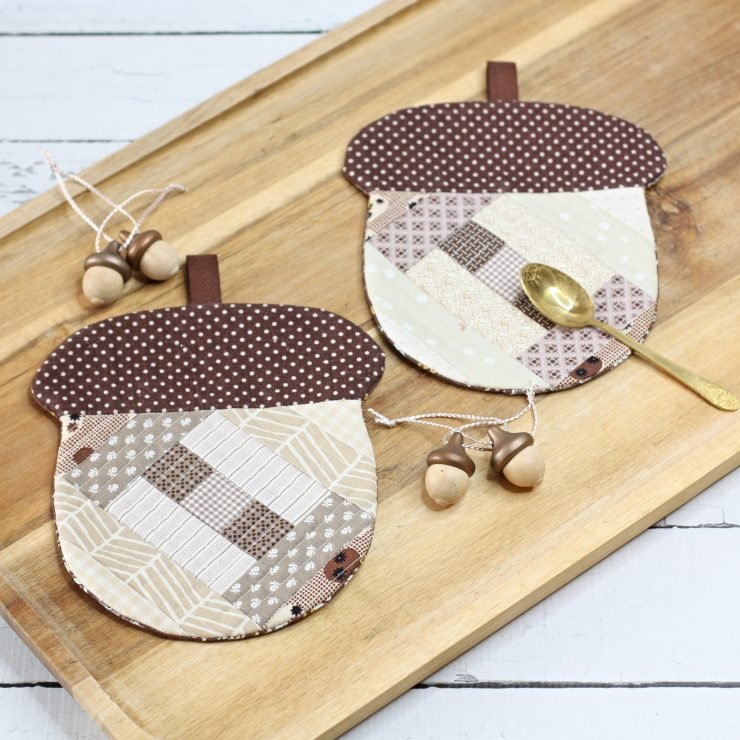 The patchwork panel is a courthouse steps variation of the traditional log cabin patchwork block. It has been positioned on point. I used a chocolate brown polka dot linen for the cap of the acorn. This gives a cohesive look to the coaster duo, even though different patchwork fabrics have been used.
I love modern farmhouse decorating style and these coasters use natural colours which tone well with wooden elements in our home. The Patchwork Acorn Coaster is a good size for a coaster/mug rug – perfect for your morning or afternoon cup of tea.
The Patchwork Acorn Coaster PDF Sewing Pattern is available in both our Pattern Store and Etsy Shop for immediate download. It is a 9 page ePattern with loads of step by step photos and a full sized template.
If you love this pattern, check out our Patchwork Pumpkin Coaster Mug Rug which has been constructed using the same technique.